~Notice~
We are sorry to announced that we have stopped receiving new orders for "500 colored pencils" .
Starting from middle July, a limited of 100 set "500 colored pencils" will be sold in one purchase.
The price for whole set of "500 colored pencils" will be 41148 yen (include tax).
※Customers have to be responsible for the overseas Shipping and Handling Fee.
(Please be aware that customs in some countries/regions may charge taxes and other surcharges)
For details, please refer to the notice which will be released when it is on sale. Thank you.

500 rich uniquely named colors inspire the imagination to visualize the boundless natural wonders of the Earth.
The 500 colors delight in the discovery of the unexpected and are beloved by more than 6 million people.
In response to the many requests to make these color pencils available once again, we are finally able to offer the color pencils in
its new container. Use them to create and express stories that are yours alone.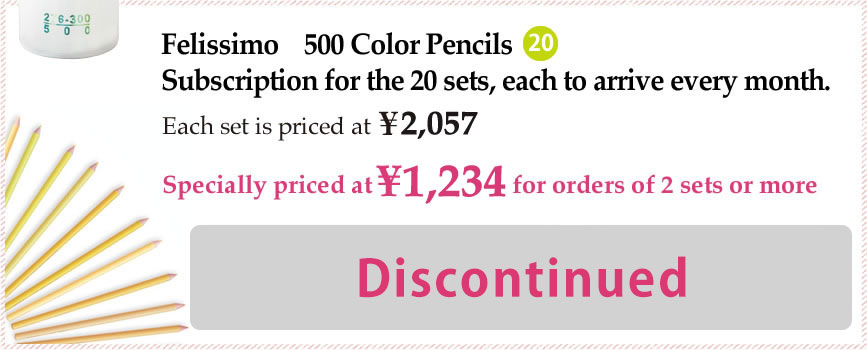 It's human to have favorites. To be drawn to certain colors, to have others surprise you. We believe the greatest beauty of 500 Pencils is that you don't receive all of them at once, but over the course of 20 months. It gives you new focus as an artist, working with color families and feeling the precious nature of each pencil. We send 25 pencils a month, crafted to order. As you build to 500, the pencils become your story and experience. It's about enjoying an unhurried creative process, and the artist - that over time - you become.
WOW someone you love with color.
There's no gift in the world quite like 500 Colored Pencils. Encourage a young artist, surprise a child, thank a mentor or inspire a creative soul with a gift they can hold in their hands, and heart.
Each month when the pencils arrive, they become a new gift to unwrap a new present every month for 20 months reminding someone special that he or she is in your thoughts: a dramatic gift any one would remember for life.